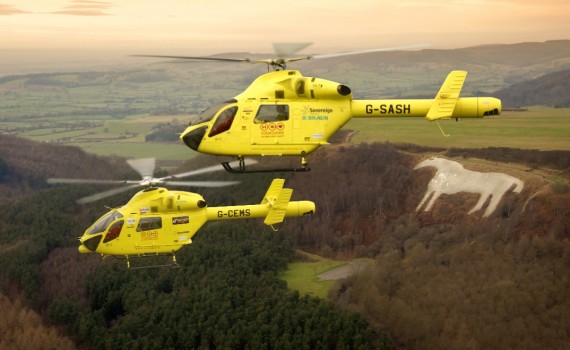 Medical Evacuation (MedEvac) and Insurance Policies
MedEvac basics, be sure that you are covered.
So what is MedEvac?
Exactly as it sounds Evacuation brought on by Medical reasons, either serious injury or life threatening illness. The  transportation of the patient to a capable medical facility.
How is MedEvac conducted?
The expedient solution for short distances might be ground ambulance, but sometimes due to the patient criticality, time constraint, terrain, short distances can be by helicopter. With longer distances, the fastest way to get patients to a hospital is by fixed wing aircraft rather than by helicopter. Helicopters don't fly fast and have short range. For medium distances less than a thousand miles, a piston or a turbo-prop air ambulance would be used and be just as fast as and cheaper than a jet. Jets must climb to high altitude to get anywhere, that's where they go fastest and have the lowest fuel consumption. The trade off for flying lower in a propeller aircraft is they are just as good and as fast and much cheaper for medium distances and can also land on shorter runways. It costs about $2000 per hour to operate a jet air ambulance. Air evac by fixed wing aircraft usually involves ground transport to the airport by ground ambulance to and from an airport unless a helicopter is used.
The latest development in air evac was pioneered by Lufthansa where they take a few seats out of their jumbo jets, hang curtains from the ceilings, and install other equipment by quick release fasteners to the floor. Presto! They have a portable ICU in the standard passenger Boeing 747. A quote from India via Frankfurt to any one of about 30 US destinations was 35,000 Euro. A regular business jet type air ambulance covering the same distance could be twice that amount.
The air evac industry is geographically diversified into specialty companies that are familiar with the country and locale they operate in. This is the safest and cheapest way to operate. Their aircrew has experience with local weather, navigation, terrain, and have been to the same destination many times. Insurance companies almost never own aircraft, but call upon regional operators to evacuate casualties. They have nurses on staff, and doctors they call upon to join the crew depending on the criticality of the patient. There are many good operators in Mexico and many seem to be American owned and operated!
Medevac and your insurance
Almost all international medical and travel insurance policies have an air evacuation benefit. There are also inexpensive stand-alone air evacuation policies that get you to the hospital, but they won't pay your hospital bills once you get there. The air evacuation benefit only gets you to the closest place capable of treating you, usually not back home. For most people in the southern Baja, that means Cabo San Lucas. There is a British international medical plan offering return home, or to country-of-choice medical evacuation at the highest benefit level, but this is a relatively new development. Read your benefit carefully to understand the limits. In most cases, even if you have an evac benefit, medical necessity dictates flying you to the closest hospital to save your life.
I was told of one incident where an evacuation was attempted from Loreto in the Baja, but the patient died on a stretcher after 4 hours at the airport as the air ambulance would not depart because they could find no hospital to accept the patient. In America, if you can get through the hospital door, the law requires them to provide emergency treatment whether you can pay or not. That could be very expensive for them if you can't and they can't collect. According to the Economist magazine, 25% of all hospital revenue in the USA is written off as bad debt because people can't pay. So hospitals are reluctant to accept you, especially at a distance, if you don't have health insurance or a method of payment. Imagine trying to organize a bank transfer from a stretcher, lying on the floor in a primitive terminal while critical! An air ambulance won't depart with a critical patient unless they have a destination. If you buy medical insurance combined with an evacuation benefit, then you don't have that problem. The Emergency Assistance Service of the insurer will find you a hospital bed and coordinate the evacuation to get you there. US hospitals are eager to accept you if you have a method of payment!
Almost always you are required to call the 24-hour assistance operator of your insurance company to let them make the arrangements for air evacuation. They can do this better than you can certainly, and they can get big discounts that you can't. They have arrangements in place with all of the local evac operators and the destination hospitals having done this many times before.
Hopefully you will never need evacuation, but if you do, understand the constraints and the terms of your policy so you don't have an unpleasant surprise.